On behalf of our club members and sponsors, welcome to the fun and exciting world of Classic Thunder 1/10th Scale Electric Hydroplane Racing. For over 20 years now we've been sharing the thrills of fast electric racing in communities throughout Western Washington. Our models are fashioned exclusively after real unlimited hydroplanes, so many of which have graced the waters of nearby Lake Washington and other venues over the last half century. Most of us grew up watching their huge roostertails fly as they battled for the Gold Cup and Seafair trophies right here in our own back yard. We as members share a passion for the hydros, their history and the hobby that brings us all together. Each race gives us a chance to celebrate our common fascination with the boats and to satisfy our collective "need for speed".

In Division 1 competition, our goal is to bring back a piece of hydroplane racing's "Golden Era" from the 1950's and 60's. At the same time, we intend to make a little history of our own. This "vintage" class of racing is the essence of Classic Thunder's origin. However, we also strive to keep one foot in the present day and look ahead to a bright future with a class of more powerful, more contemporary boats. Division 2 is made up of replicas modeled after boats primarily from the 1970's through the mid 1980's. We started this "more modern" class in 2001 and revised it in 2013 with the introduction of Division 3. Division 3 racing started in 2013 when we decided to separate the modern "open cockpit" boats from the "closed canopy" modern boats that we've seen since the mid 1980's.
We invite you to ask any questions you may have and are always interested in helping others get more information about what we do. We enjoy putting on a good show and entertaining spectators of all ages. This season, and many to come, will no doubt bring with it more fabulous Classic Thunder racing action. Come join the fun!
Sincerely,
The members of Classic Thunder
*****************************************
To join Classic Thunder,
all you need to do is contact our Secretary/Treasurer/Registrar and pay a full membership fee or a guest racer membership (see the Rulebook for more details).

Boat Registration: Now comes the fun part, picking out the boat you want to race. Our Secretary/Treasurer/Registrar can give you insight as to which boats have already been registered. You are allowed to register five boats. Division 1 is our vintage class including models of boats that raced primarily in the 50's and 60's. Division 2 is our more modern "open cockpit" class of racing including models of boats that raced primarily from the 70's through mid 80's. Division 3 is the "closed canopy" most modern boat class. (See our rule book for more specific details.)
<![if !vml]><![endif]>Meetings: One of the best ways to become familiar with our club is to attend one of our meetings. During the off-season months, we normally meet once or twice to take care of club business. Other than that, we try to announce when people want to have casual test sessions so that others can join them. Off-season generally runs from November through March. Meeting announcements, along with other club information, will be posted on the web site and circulated via e-mail.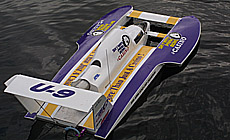 Contact us if you would like to be added to our e-mail list. We often send out notices to everyone when we want to get together and test boats or to share other information with each other.
The Boats: Some new members scratch build their favorite boats from plans (usually 1/8th scale plans from Newton Marine reduced to 1/10th scale and modified for electric application.) or have someone else do it for them. Some purchase fiberglass hulls or unfinished scratch hulls and do the finish work themselves. One of the easiest and often most cost-effective ways to get started is to purchase a finished boat that someone else is selling. Some are even sold with some or all of the running gear included! That's another good reason to attend a meeting. You can also ask some of the many questions you may have and get a chance to meet some of the other members. Often times that is where you find out about boats coming up for sale or about scratch builders who have some time on their hands. We're always happy to see new people and talk about boats. We're here to help you get the information you need. We can't emphasize enough and encourage you to ask questions of our members. Learn from the mistakes we've already made. You'll find that we're all in it for the fun and friendships that come from sharing our enthusiasm for this hobby and hydroplane racing. We look forward to meeting you!